Little Home Church by the Wayside
'Joyful, Joyful, We Restore Thee' Capital Campaign
CASE FOR SUPPORT - Click for brochure
In anticipation of the 150th Anniversary of The Little Home Church by the Wayside in 2021, the congregation embarked upon a comprehensive assessment of our buildings and grounds in 2017. We have identified priorities and outlined a vision for our future. The result is "Joyful, Joyful, We Restore Thee," our capital campaign begun in 2018 to renew the Little Home Church which has raised nearly $1.5 million in pledges to date from almost 70 members and friends.
The essential elements of the improvement plans for the church include: structural restoration; updated electrical and HVAC systems; improved accessibility; state of the art technology; and renovated, flexible, interior spaces for community use. Preserving the church's distinctive and historic style will be integral to all design decisions. This project is the result of much planning, thought, discussion, and prayer.
Leadership Team:
Anne Bouchard, Chair; Carol Berger, Moderator; Andrea Redmond, Kit DeWitt
Greg Hege, Bob Kaska, Kathleen Sullivan Kaska, Susannah Lesswing, Susi Winquist,
and Larry Deiffenbach , Transitional Lay Minister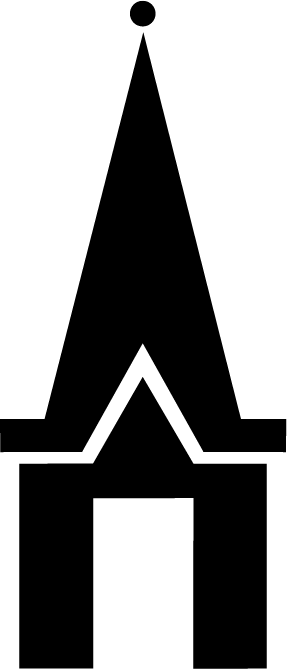 We are an Open & Affirming Congregation
We accept, embrace and affirm the dignity and worth of every person, as we are all created in God's image.
Persons of every race, ethnic background, age, gender identity and expression, sexual orientation, physical or mental ability, size and weight, socioeconomic background, marital status and faith background are welcome to share in the life, leadership, ministry, fellowship, worship, sacraments, responsibilities, and blessings of participation in our congregation.
The Vision for the Little Home Church is 'Celebrating and Sharing God's Love in Christ.' In our individual faith journeys and in our congregational efforts to live out our Vision, we strive for justice and equality for all of God's children. Wherever you are on life's journey, you are welcome here.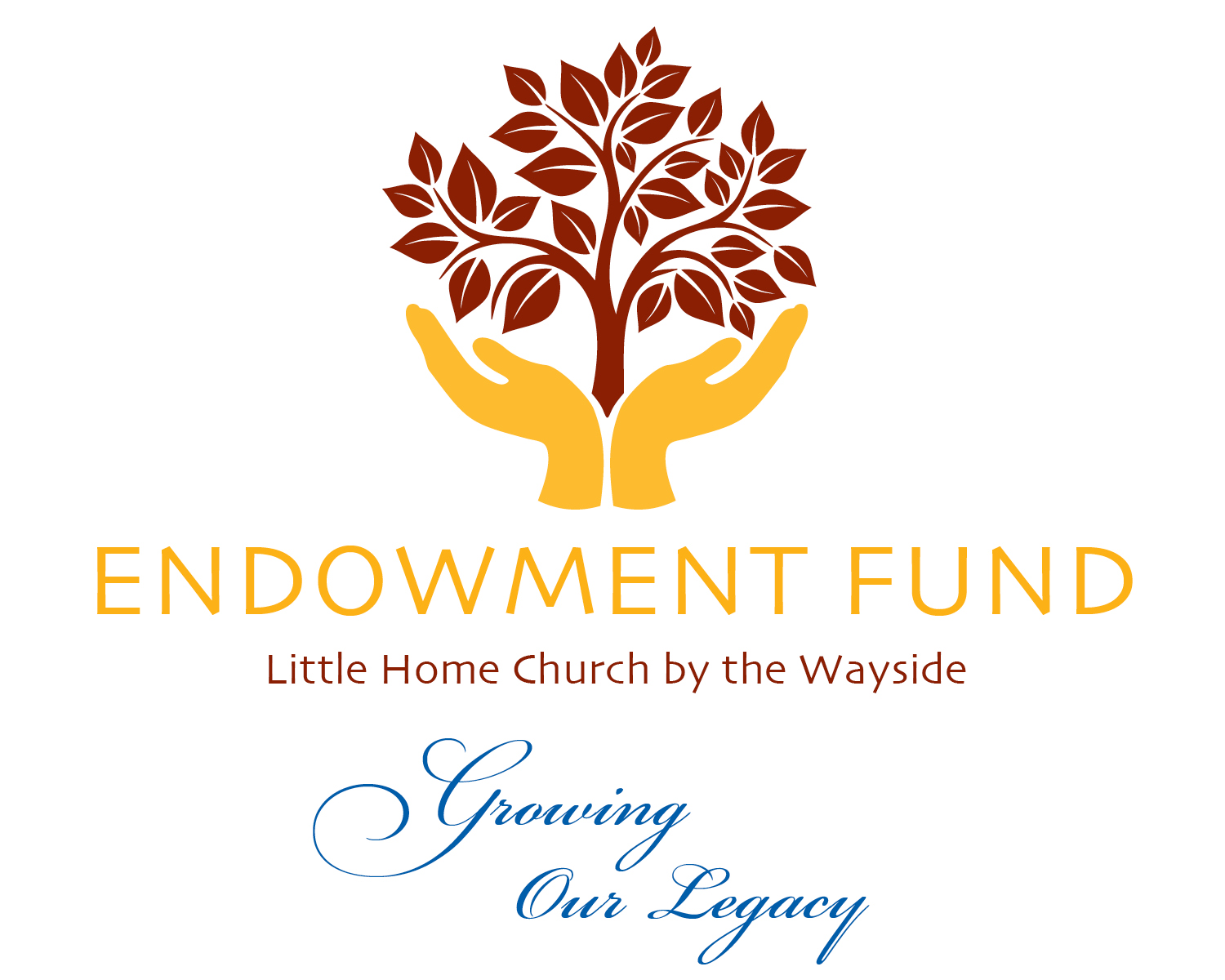 LHC Endowment Fund - Growing Our Legacy
The LHC Endowment Fund provides the means for people to express special gratitude to God for blessings they have received. The principal is held permanently and only the earnings are used to fund ministry. As a result, a gift to the Endowment Fund endures forever.
Endowment gifts are theological statements which demonstrate one's belief that we are never ultimately proprietors, owners, but only stewards, lifetime guardians entrusted by God to use wisely what God has placed in our hands. When an individual creates an endowment gift for the church during or beyond their lifetime, it declares to the present and future generations the importance of our faith and trust in God. We have each drawn water from the wells we have not dug; we have sat under shades trees we did not plant and we each have a wonderful opportunity to provide the means for the church to have a strong and empowering ministry for generations to come.
The LHC Endowment Fund will provide on-going benefits through long-term investments while keeping the core endowment principal intact to fund future years of use for the mission and ministries of Little Home Church. The endowment fund is managed by the Endowment Fund Trust which consists of five trustees, all of whom are voting members of LHC and serve three-year terms. The pastor, moderator and moderator-elect of the church council are advisory members of the 'Trust.'
Throughout 2019 we shared ideas and plans with the congregation and community and we have made adjustments and changes along the way. The large display in the Parish Hall will give you a wonderful overview. Now it is time to start work on the project!
PHASE ONE will involve major repairs and upgrades to the church facade, sanctuary, bathrooms, infrastructure, and septic system. Architect Lisa Sharp has developed construction drawings so that we may obtain a permit from the Village of Wayne and gather bids for the work. We expect to begin in late-spring 2020.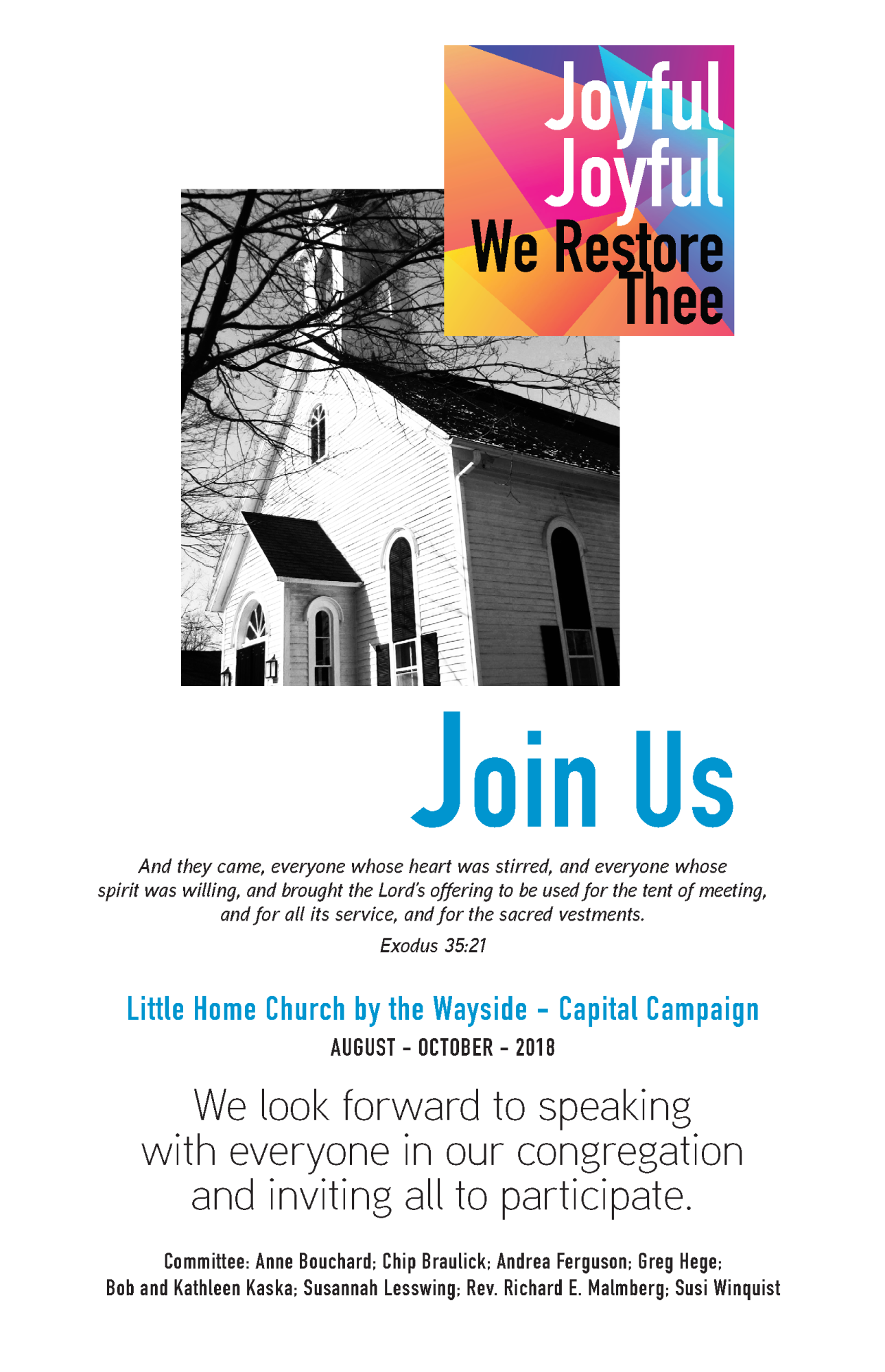 VIDEO
Click Here to view our 'Joyful' Restoration and listen to the beautiful piano music presented by Larry Dieffenbach, LHC Director of Music and Transitional Lay Minister.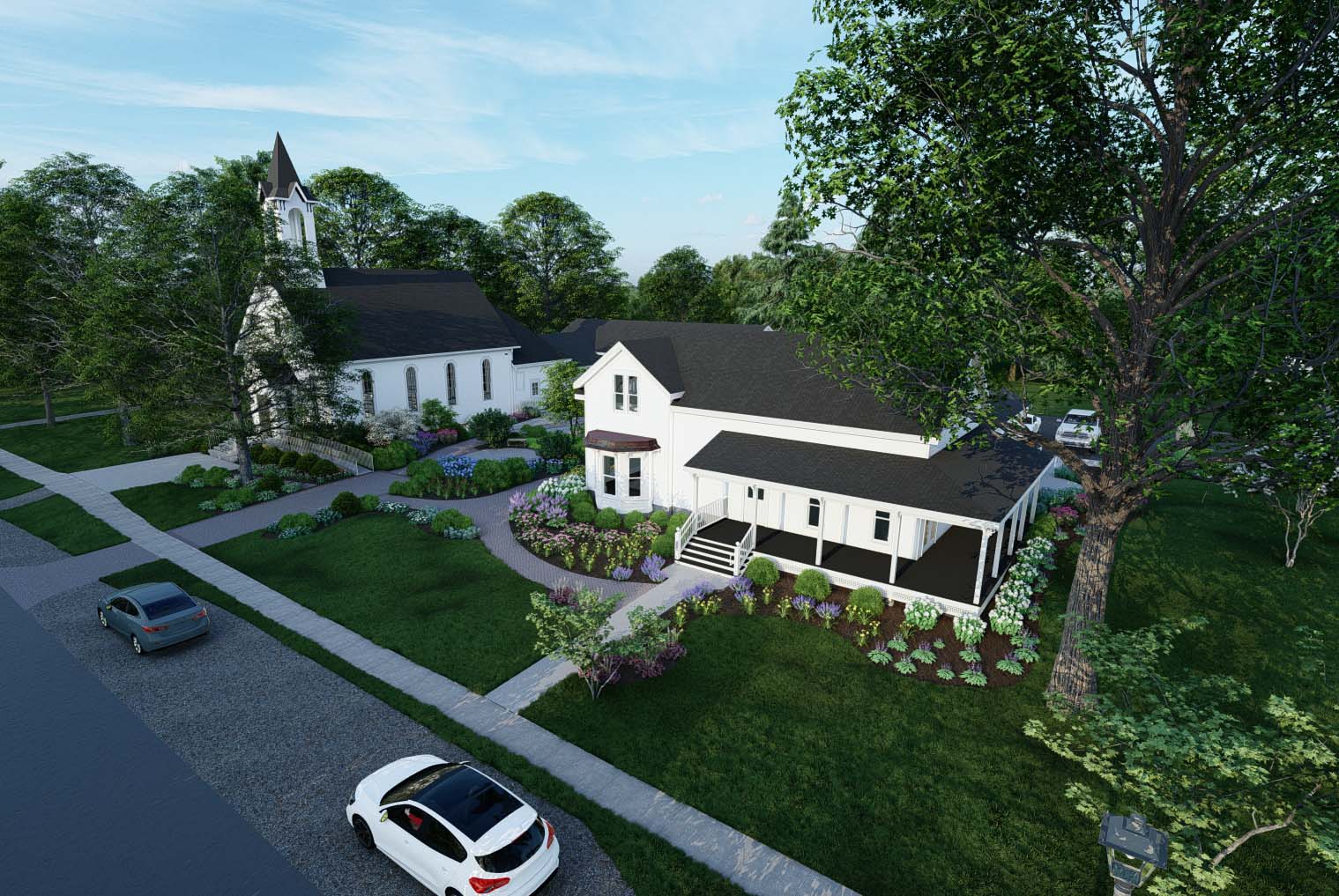 PHASE TWO
Wayne Community House
Since 1871, Little Home Church by the Wayside has faithfully served the residents of Wayne and the surrounding community. Nearly 150 years later, LHC still holds its place as a house of worship, a resource for community support and service, and a local landmark. The Wayne Community House will be a home base for our congregation and the local community, a space where people come together to be inspired, to be uplifted, to be creative, to be comforted, or simply, to be. Like the sanctuary and Parish Hall before it, this will be a place where shared experiences lead to lasting memories.
Wayne Community House Brochure