ORDER YOUR BULBS TODAY FOR THE BEAUTY TO COME...!
Little Home Church by the Wayside is offering
Mixed Trumpet Daffodils for Sale in the month of October!
Bag of 10 Bulbs - $10
And if you'd like, help bring beauty to the Village of Wayne by purchasing a bag or bags for donation to the community.
We will then plant the donated bulbs, with the help of volunteers, around the church and throughout the Village.
You can purchase bulbs every
Saturday in October at the
Wayne Post Office, 9 am to Noon.
Look for the table with our three
friendly sales associates...!
Buy bulbs at the Little Home
Church 'Pitch-In Day' on Saturday,
October 24, 8 am to Noon.
32W128 Army Trail Road
Wayne, IL 60184
Little Home Church - OCTOBER FUNDRAISER
There's beauty in this little bag
A harbinger of Spring.
Please plant them in a special place.
Yellow daffodils they'll bring!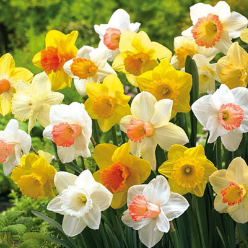 Mixed Trumpet Daffodils for Naturalizing
Bag of 10 Bulbs - $10
B

uy

N

o

w...Pick Up

at Church on Saturday, October 24, 8 am to Noon.
Join Us...
COMMUNITY BULB PLANTING - SAT, NOV 7
Meet at the old train depot in Wayne at 8 am. We will be joined by Boy Scout Troop 13 and other volunteers to plant donated bulbs for the village. Maps will be provided to show where the bulbs are to be planted and 'supervisors' will be on hand to assist the groups.